I Need Child Care
If you have a child between the ages of three months and three years old, you may qualify for subsidized child care services with Children & Family Circle (CFC). First priority for enrollment at CFC is given to children referred by Child Protective Services (CPS) or other legal, medical or social service agencies. Low-income families who meet state guidelines for income may also be eligible.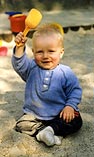 If you would like more information about our program, or to be placed on a list for subsidized child care with Children and Family Circle, please call us at (707) 544-4653.
For more information about subsidized child care throughout Sonoma County, call the Community Child Care Council (4C's) at (707) 544-3077 or visit the Sonoma Child Care Eligibility List at sonoma-cel.org.