Our Program
Children & Family Circle (CFC) offers quality child care services through a network of licensed family child care homes located throughout most of Sonoma County, including Santa Rosa, Windsor, Rohnert Park,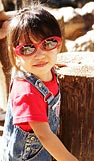 Petaluma, and Sonoma. We contract with providers who are well trained and offer a variety of daily curriculum activities tailored to meet the special developmental needs of babies and toddlers. CFC staff visits the child care homes regularly to monitor the children's development, provide art and enrichment projects, and offer technical training and support. To help meet the needs of our families, over half the providers in our network are bilingual (English-Spanish).
Families with children between the ages of three months and three years may be eligible for our services. Highest priority for enrollment is given to children referred by Child Protective Services (CPS) or other legal, medical or social service agencies. Low-income families who meet state guidelines for income may also be eligible.